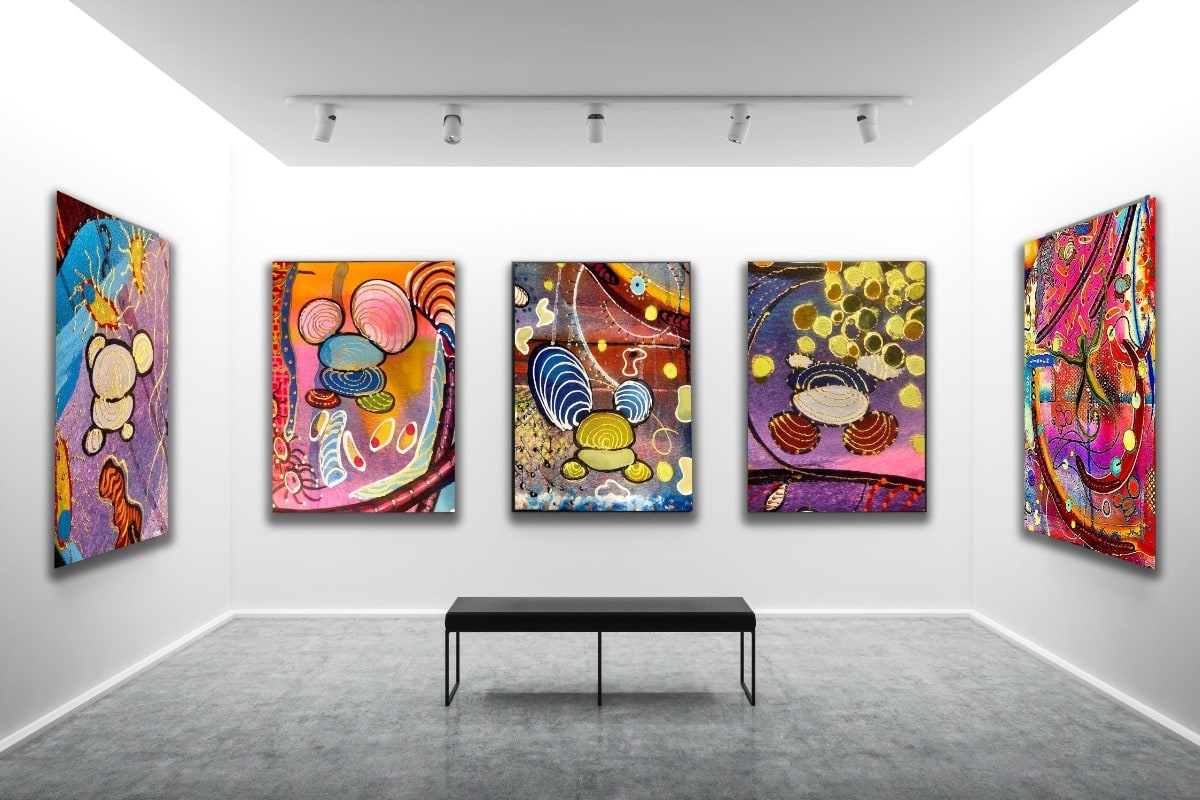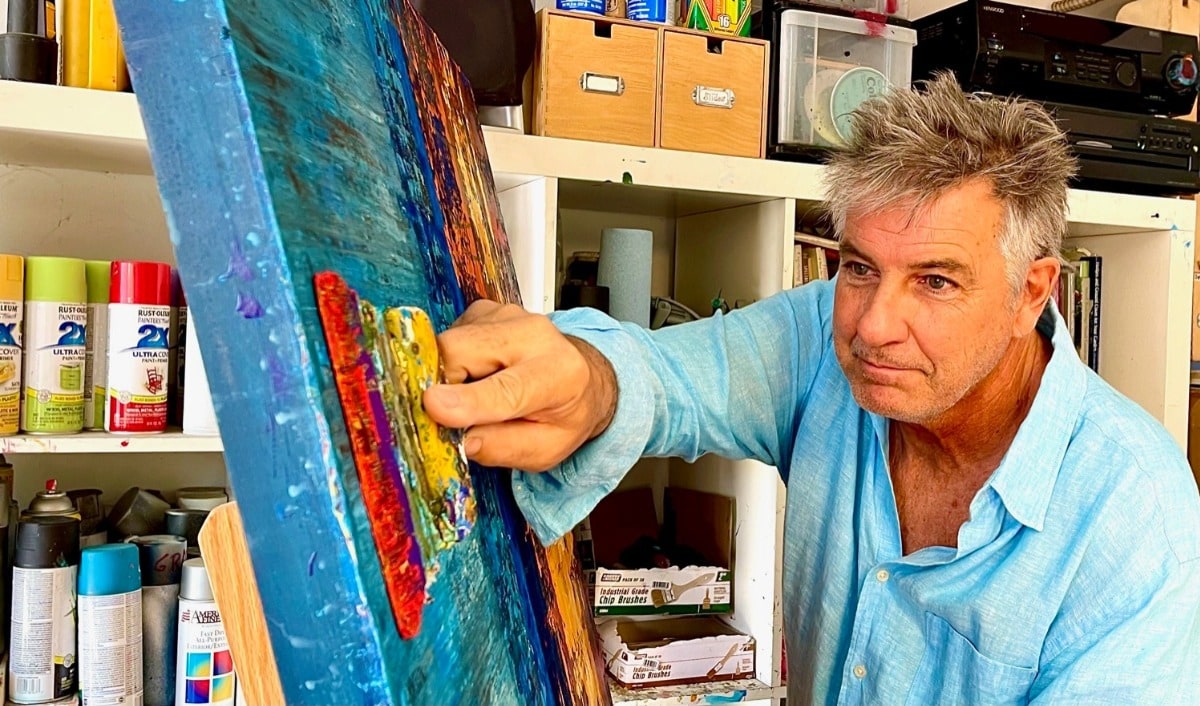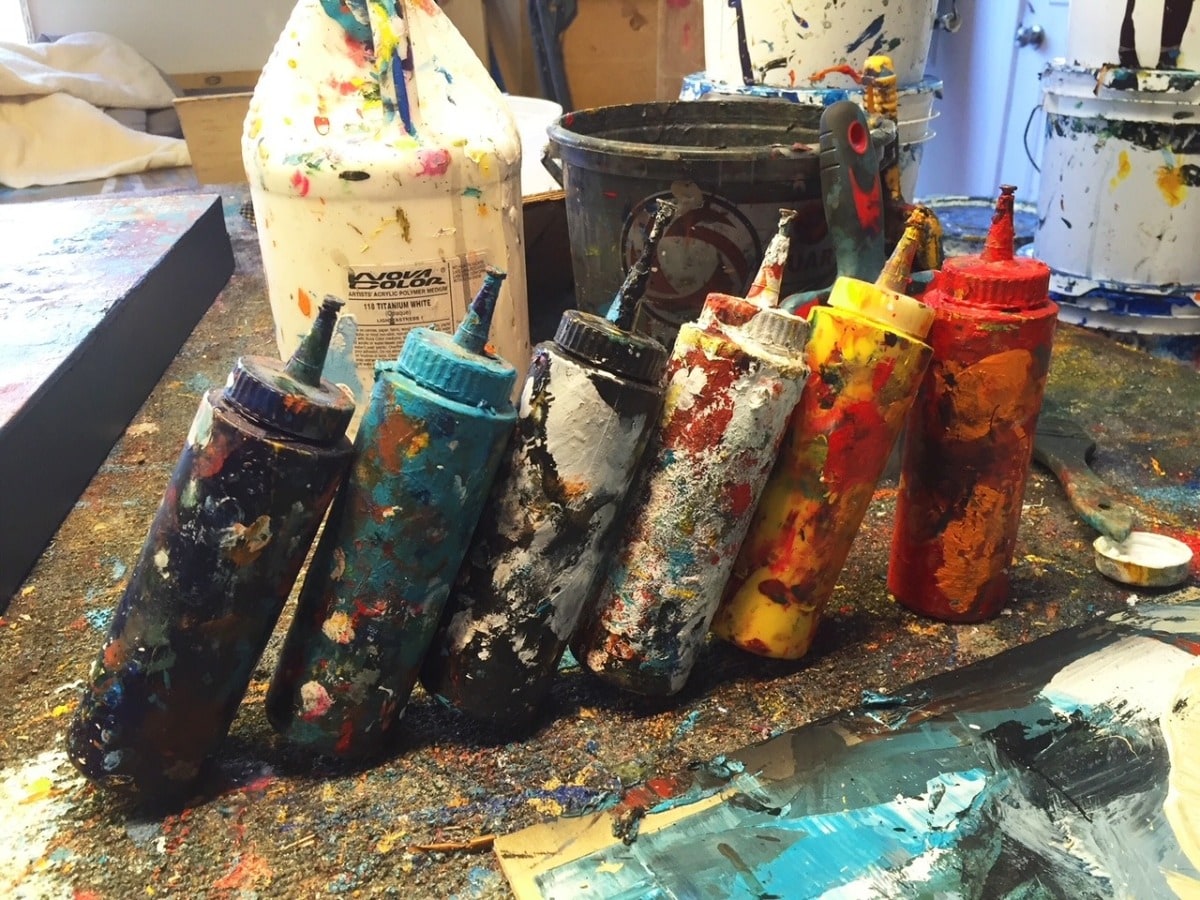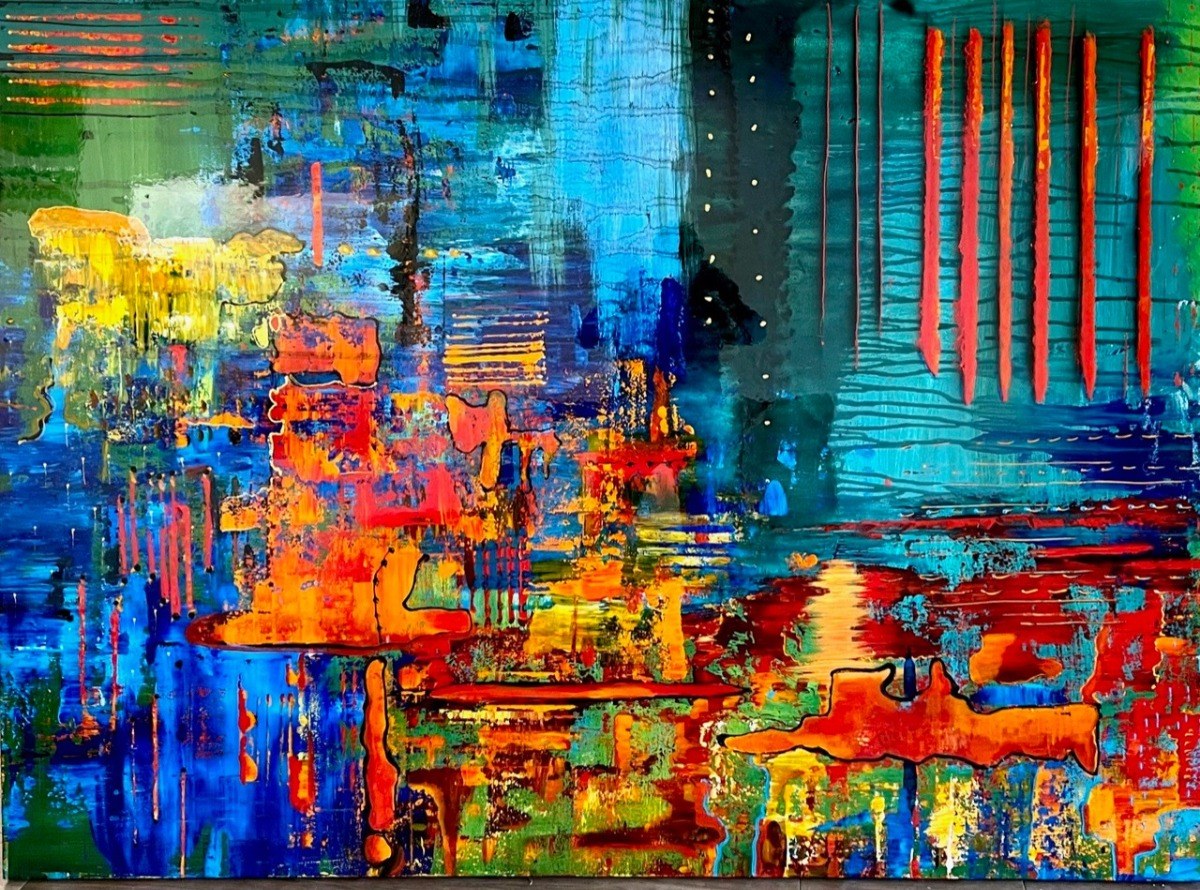 INSIDE THE STUDIO
I love exploring the space between what is and what is to be, and watching the unrestricted play of my unconcious.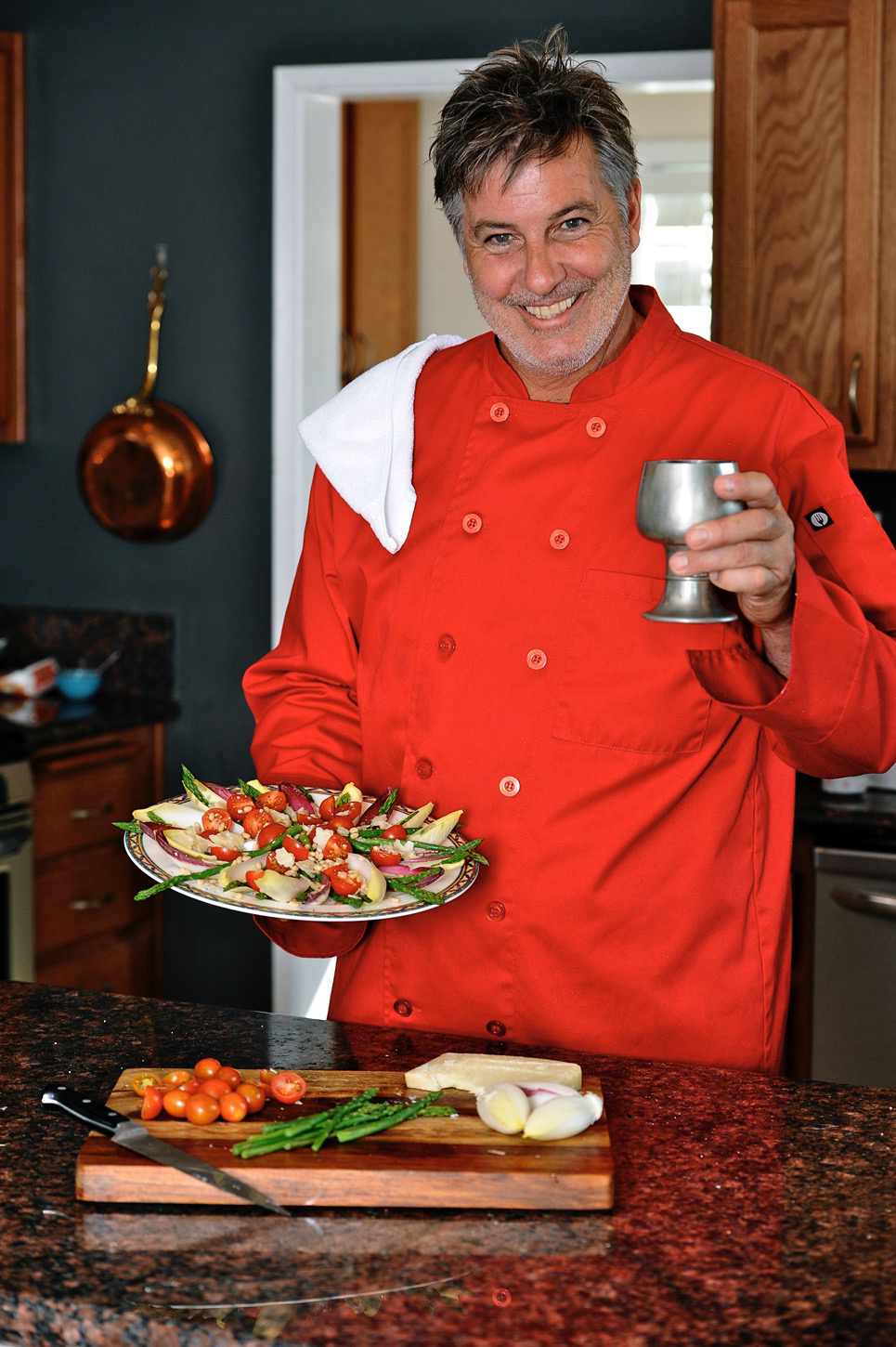 This is simple, elegant, quick to prepare and delicious to get the palette started.
Blanche thin asparagus 3 minutes and throw in an ice bath.
Dry thoroughly.
Cut cherry tomatoes in half and set aside.
Cut red and white endive ends off and peel the leaves… arrange in a sunburst pattern on a large serving platter.
Place the asparagus in each endive leaf with the cherry tomatoes.
Toast some pine nuts. Sprinkle them over the entire plate.
Next shave and crumble some reggiano parmigiana over that.
Finally, drizzle white truffle oil to bring this dish alive.
E N J O Y ! ! !
One of my greatest pleasures is cooking. I read a book on neuro gastronomy and realized certain pairings work because their molecular structures are similar, so I started playing with that idea. I began to combine elements such as sea salt and olive oil into my paintings. Salt, mixed with pigment and water creates crystallized patterns in paint, which become very interesting to the eye. Cooking, like painting, is a matter of blending the right combinations of things together. Good creative acts are an amalgamation of the right combination of things in relation to each other; whether it's a great sauce or a painting, my approach is the same. I work on birch panels, they remind me of a stage, which is where I started my first career as an actor. After prepping the front and back of a framed birch panel, I have a semi-circle of gallon paints opened at the ready. Kitchen tools, foam, rags, boards and anything from Home Depot can make interesting painting mates, although primarily, I use a spackle knife.
Dragging, spraying, dripping, smearing and scraping are all part of the process. Varying amounts of pressure applied with my spackle knife enables me to create some control over the haphazard nature of my approach. I lay down up to 15 layers of paint and frequently finish the piece with a resin topcoat. Alternating this application with paint, resin, paint, resin numerous times renders a startling effect in which the paint layers appear to "float" above the other layers. This causes light to be trapped between the layers, giving a wonderful sense of inner illumination. I often incorporate heavy texture, color fields, realism, words and iridescent mica flecked paints into my work. One color, shape or tone tells me what is needed next. The process becomes mostly unconscious and as the process flies along I hold on and sometimes I lead. The end result is a vibrant, colorful painting. I'm drawn to the genre because viewing this work allows people to express themselves in very personal and often revealing ways. It helps open us up to each other. Kohan ni Shitagau…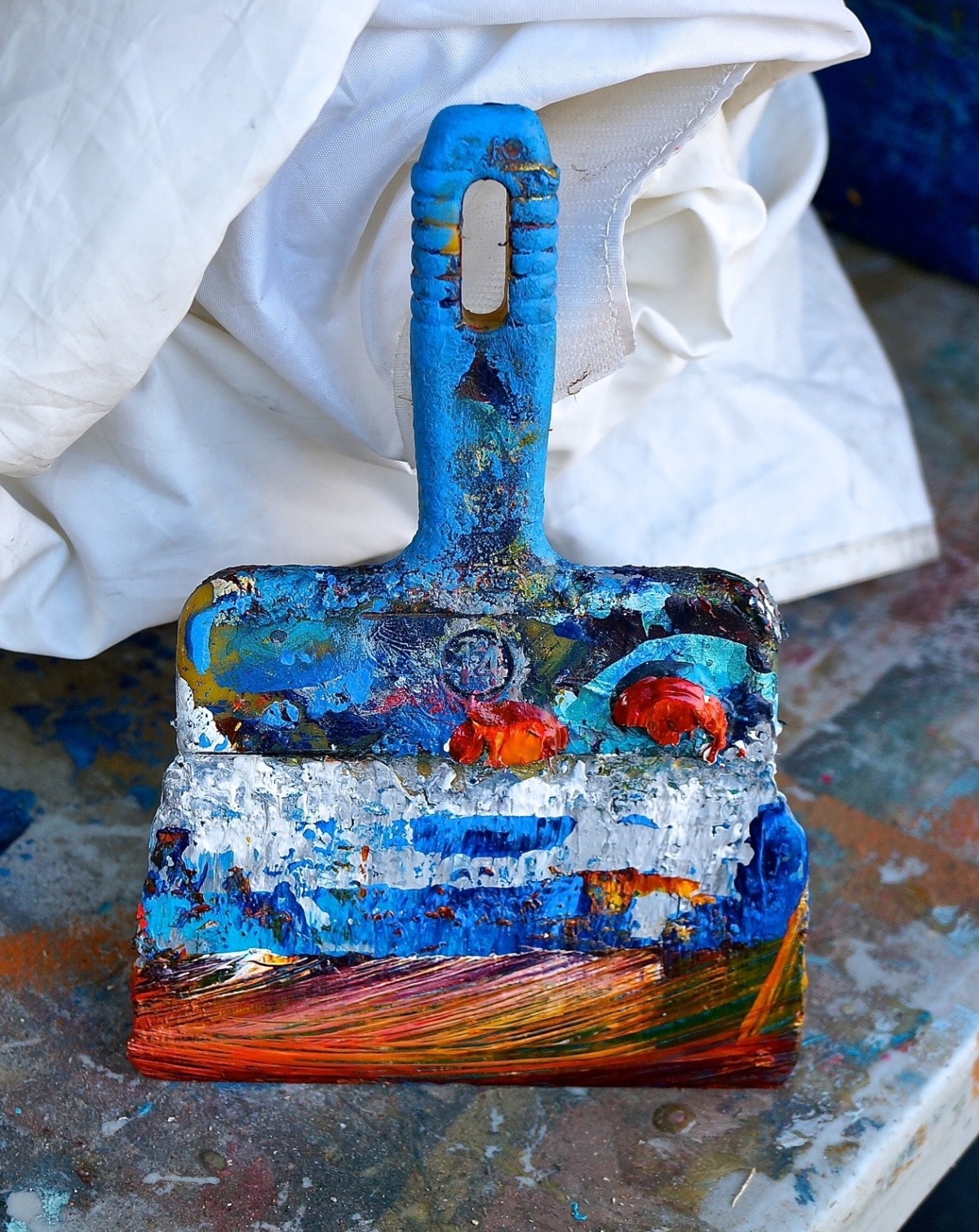 Charities
No Limits for Deaf Children
West Hollywood Art Walk, Pacific Design Center's silent auction for charity, CA
The Make-a-Wish Foundation
Beverly Hills Police Association black tie ball silent auction
Beverly Hills Fireman's Association Fireman's Backdraft Ball silent auction
Operation Wrap - A project I created to bring blankets to the LA Homeless
Commissions
American Lung Association, Washington ,DC 2009
Created piece entitled, "Breathe", which was purchased and donated; now gracing the lobby of the new national headquarters
North Hollywood/NOHO Gateway Sculpture 2000-2003
Commissioned by the City of North Hollywood/CRA for a 15 foot tall bronze installed prominently at the 5-way traffic island "gateway" to the new NOHO Arts District.
San Diego International Landscape and Design Expo, San Diego 2002-2003
Commissioned to create signage for the exhibitions on site headquarters.
Community of Angels Project 2001
Selected to design and produce one of Los Angeles "Angels" for the Community of Angels Project. Created "Tara" sculpture, featured seated in a boat in downtown Los Angeles renowned Cal Plaza. Auctioned for charity by Sotheby's Los Angeles.
ADEX Award 2000
Received Design Journal Award for Design Excellence in the Art category for "The Gathering".
Citrus Country Club, La Quinta, CA 1999
Commissioned to create Club's signature art piece featured in the Clubhouse lobby.
Contemporary California Art Collection, Sacramento, CA 1998
Chosen to represent Los Angeles district for #1 annual contemporary exhibit at the State Capitol.
Drama-Logue Award, Los Angeles, CA 1997
Received Critics Award for Best Scenic Design.
Louise's Trattoria, Santa Monica, CA 1997
Acted as design consultant and commissioned to create original artwork for flagship store of Louise's chain.
E! (E Channel) 1995
Commissioned to create contemporary logo art piece for E! Headquarters main lobby
Designed a line of snowboards for Aloha products, 2016
Designed cover for master flamenco guitar artist Armik
---